The Preface and Chapter 13 are reviewed
Hi Team
I just added:
A folder named "cover" with the cover and back cover images.

The master document for Calc 7.4 in the Published folder (add your name to the authors section). The master document has the cover and back cover with the right images in the respective page styles background.

Updated the status spreadsheet
I'm keen to run Code Highlighter 2 over Chapter 12 Macros. I understand Code listing caption style is being finalised.
Thanks all, I'll look to do a close-to-final edit of chapters today/tomorrow to cover:
incorporate final updates from @kees538
updates to the feedback sections
double check for mouse pointer (vs. mouse cursor)
a final spelling/grammar review
code highlighter 2 for chapter 12
I assume I should wait to "accept all changes" to the actual publishing step?
Is there a way of knowing if the community release is still on track for August?
The release date is the date we are ready…

Upon revising, better go change by change and decide.
Please place the final revised files in the published folder. I use to do some final tweaks to handle the master document (e.g. sections), direct formatting cleanup and more.
Olivier
It looks like the current versions of chapters 0 & 2 were archived before I checked out all the chapters… anyone working on those two chapters?
Everything (including the ODM) except Chapters 0 & 2 have been published. I can publish the chapter PDFs when I get the last two chapters done (preface will have to wait on posting of Community release).
@flywire I ran Code Highligher 2 over Chapter 12 and it worked well - didn't change anything from the original as far as I could see. But I did test it by resetting text font and colors and the highlighter corrected them very effectively. Nifty tool!
Code Highlighter 2 has rapidly transformed in the last few months to meet our needs. The first version to do that is shown in V7.4.0 release notes.
@PeeWee can tell you looks can be deceiving, and certainly are with Code Highlighter 2. The calc guide had hard-coded formats, not enough contrast with code comments and code captions were inconsistent with other guides. Some of the style flows invisibly into pdf cut/paste functionality.
The release process is iterative and the guide is not released yet. It would be good to draw a line at V7.4 to sort out code style. Some of this chapter looks remarkably like other guides and I can envisage copy/paste. There are only a dozen listings and code style, depending on Code Highlighter 2 version actually used, can likely be updated by just opening the document and running format Code Highlighter 2 update.
Ignoring the caption format, that would have been fine if the formatting was fixed so the code listings weren't published as a single paragraph and the current version of Code Highlighter 2 was used to actually format it as a code character style: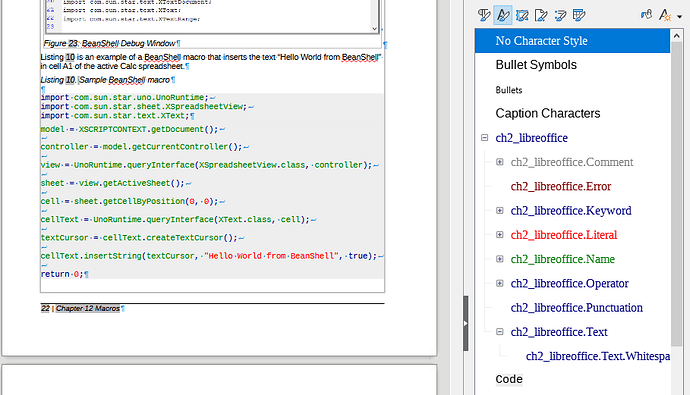 I can't seem to find a copy of your post-review Preface in the Archive or anywhere else. Do you have a copy you could re-upload?
HI Skip @Northwoods35
I have downloaded the Published files and tweaked all of them . Can you please hold on until I upload back?
I miss chapt 0 (Preface) and chap 2. Are they ready? If affirmative please add them to the Published folder.
My tweaks are
Changed template to 7.4 by @PeeWee

Tweaked some screenshots that were too big in the page

Added the COPYRIGHT section for master document management

unset the track changes.

Build the master document.
Olivier
Chapters 2 and 12 were uploaded earlier today. Chapter 0 was missing from In Progress post @kees538 updates so I was looking to finalize that tomorrow (plus it includes a link to the announcement blog article which has yet to come out).
Hi Skip
The files in the Published folder were updated except chapter 2, which is still missing. An (incomplete) PDF is available for evaluation up to now. If you find a typo or formatting issue, please fix it and add a note (Ctrl+Alt+c) just to flag it. To recreate the PDF, open the master document (and update links) and export to PDF.
Kind regards
Olivier
Hi @Northwoods35 , @kees538 , @jeanweber
The revision 0 of the Calc Guide 7.4 is compiled and exported to PDF in the Published folder. Please review if the PDF is OK for release, which I am planning for next Thursday 25.
The sparklines and topic Calc Guide 7.4 - Sparklines - #3 by kees538 can be published in Revision 1 in 6 weeks.
For simple mistakes (typos, numbering) please fix it directly and set a yellow comment on the position in the chapter. I'll review just before publishing.
Kind regards
Olivier
Olivier,
Are you saying that you want us to annotate the PDF if we find an error?
Jean